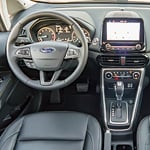 In the same way that SUVs took the world by storm, crossovers and compact crossovers are doing the same thing. Compact crossovers, like the Ford EcoSport, are popular because they offer the performance and power of an SUV with the fuel economy and smooth ride of a car. The Ford EcoSport is a great example of having the best of both worlds. Take a ride to Dave Marston Motors Inc and get all the information you need on the Ford EcoSport.
When it comes to convenience and amenities, you'll love what the Ford EcoSport has to offer. The cabin offers leather-trimmed seats and a heated steering wheel for your comfort. The second-row seats offer not just comfort but also extra head and legroom.
Ford EcoSport's numerous amenities make driving and riding not just convenient but also lots of fun If you'd like to take the EcoSport out for a test drive, stop at our dealership in Minocqua, WI.