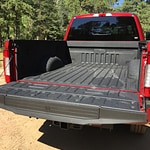 When it comes to heavy-duty pickup trucks in Minocqua, the Ford Super Duty at Dave Marston Motors is unrivaled. This truck was designed to last with a host of durability features that you can check out below.
The Super Duty endured more than 20 million miles of testing to make certain that it's dependable. This truck is the only one in its class that features a high-strength, military-grade aluminum-alloy body. The aluminum alloy is much lighter than the steel body previously featured on the Super Duty, but it's still exceptionally strong and durable. The new aluminum alloy body is also more resistant to dents, dings, and rust.
This truck has a fully boxed frame that was engineered with more than 95 percent high-strength steel, and it features up to 10 cross members. The frame is 24 times stiffer than the Super Duty's previous design and was made to minimize twisting and flexing while maintaining superior strength.