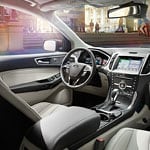 As a popular midsize SUV, the Ford Edge attracts a lot of attention from Minocqua shoppers. In addition to having a sleek, modern look and ample interior room, this vehicle is rich with impressive design features. At Dave Marston Motors, we're excited to tell motorists more about this outstanding SUV.
Relax In A Stylish And Incredibly Comfortable Interior
The Ford Edge is built to provide luxury and convenience. Stylish both inside and out, this SUV features sport bucket seats with eye-catching leather trim and coordinated, metal-plated accents throughout. With a soft, leather-wrapped steering wheel and ambient lighting, drivers can enjoy consistently comfortable rides.
Experience The Efficiency Of A More Compact Gearshift
Rather than a large, traditional gearshift, the Ford Edge features a substantially smaller design. This leaves extra room for USB charging, cup holders, and other features and accessories. To hear more about the Ford Edge or to set up a test drive, visit us at Dave Marston Motors today.